Aartsdijkweg 29
2676 LE Maasdijk
THE NETHERLANDS
Having your solar panels cleaned?
Poot reiniging is your specialist!
Aartsdijkweg 29
2676 LE Maasdijk
THE NETHERLANDS
Poot reiniging offers the solution!
Having your solar panels cleaned annually will quickly yield 4-10% more return!
The efficiency of your solar panels decreases when they become dirty. It is therefore worthwhile to have dirty solar panels cleaned at least once a year. If you have a large solar park then this can be quite a job. And before you know it, the year is over! Furthermore, you may not always find it pleasant to go up on the roof yourself. However, postponing the job means that the efficiency of the solar panels is becoming less and less.
We have our own professional solar panel cleaning robots, which we can use throughout the year. This allows us to clean large surfaces, as greenhouse roofs and stable/live stock roofs, quickly and efficiently.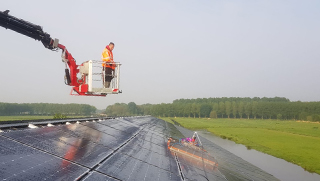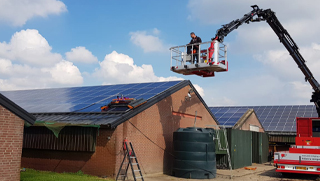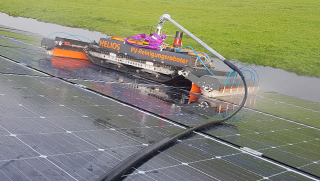 Avoid that tomorrow never comes!
At Poot reiniging, we like to think along with you. We can make sure that you don't have to worry about that annual cleaning job at all.
Poot reiniging keeps an eye on "the cleaning frequency of your solar panels". Two weeks before that time we will contact you to make an appointment.
You can continue to focus on your business activities………… and we take care of the rest! Clean and Simple!
Specialist in machine greenhouse roof cleaning and mechanical chalking.
For several decades we ensured you that your greenhouses are thoroughly cleaned on the outside.
In the summer months we carry out chalking with professional machines.
We are good in our job, are equipped with professional equipment and we always think along with you.
Poot reiniging can do
much more
for you!
Poot reiniging can do
much more
for you!
An accurate weather forecast is of great importance for the planning of our work. We therefore keep a close eye on the weather.
Professional cleaning company of the Westland (The Netherlands)
HOW CLEAN DO YOU WANT IT TO BE?
How can we be of service?
Aartsdijkweg 29
2676 LE Maasdijk
THE NETHERLANDS